Florent has 15 years of experience in brand management and marketing in the entertainment, media, and telecommunications industries. After starting his career in advertising agencies, he joined Cirque du Soleil where he became in charge of the management of the brand globally and orchestrated its diversification. From there he took on Vice President of the Fido brand in Canada, then Head of Marketing for Mishmash, a Montreal-based investment fund with interests in various media and entertainment companies.
Florent holds two bachelor's degrees – marketing and management (France) and international business (England). He also holds a master's degree in marketing (Canada).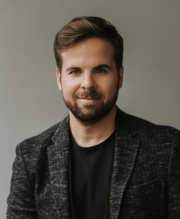 Pierre-Luc is an expert in finance and strategy. He is also experienced in building and optimizing business models. In the course of his career, he worked for several companies and investment funds such as Cirque du Soleil, Lune Rouge and Mishmash. His experience led him to serve on different boards of directors and committees for non-profit organizations and private companies.
Pierre-Luc holds a bachelor's degree in finance (Canada, England). He also holds a master's degree in strategy (Canada).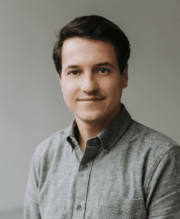 Alexis started his career in investment finance with the Teachers' Pension Plan in Toronto for nearly 4 years, during which time he developed his expertise in financial modeling, among many other skills. He then entered politics where he managed the parliamentary office of a member of the House of Commons in Ottawa. He then returned to corporate finance and strategy by joining the strategic performance management and special projects team at belairdirect, an insurance company in Montreal. He further developed his experience in business strategy and corporate finance, working on many major corporate projects.
Alexis holds a bachelor's degree in economics and mathematics (Canada) and a master's degree in financial economics (Canada).
Catherine has more than 5 years of professional experience in the entertainment industry. Before joining Habo, she worked as a Marketing and Development Analyst at Moment Factory. During her past experiences, Catherine was responsible for carrying out market analysis, digital marketing, user behavior analysis as well as the deployment of the business strategy.
Catherine holds a bachelor's degree in marketing (Canada) and a master's degree in strategy (Canada).
Marie has 15 years of experience in management of non-profit organizations from the cultural and the social sector. From 2016 to 2021, she was General Manager of Le Grand Costumier, leading the start-up and positioning of the organization, which today shines across Canada. She started her career at Oxfam-Quebec in public mobilization, then undertook a mandate as Director of Operations and Funding at the National School of Humor, where she notably optimized the funding model. Her managerial talent combined with her strategic approach enables her to leverage the full potential of organizations by turning business opportunities into sustainable projects.
Marie holds a bachelor's degree in international studies, with a specialization in economics (Canada, England) and a master's degree in administration (Canada).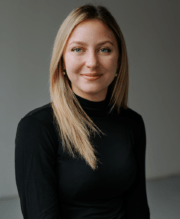 Joëlle is a generalist with a strong consumer mindset who enjoys deep-diving into projects to design memorable brand interactions. She began her career in advertising then discovered her passion for the entertainment industry and experiential marketing at Youville Haussmann Park.
Through her varied experience in consulting services, strategy and research, she has developed strong skills in both quantitative and qualitative marketing research. Curious by nature, she delights in translating data into the kind of relevant and actionable insights that help to build unique brand strategies.
Joëlle holds a bachelor's degree in marketing (Canada, France) and a master's degree in marketing (Canada).
Elena is an extremely curious and data-driven individual. She started her career in the user experience (UX) field working with companies such as Houghton-Mifflin-Harcourt, D-BOX Technologies and Vidéotron. After developing her digital product testing skills, she then joined an innovative company, GAO RFID Inc., where she undertook market research on various B2B and B2C client industries to improve advertising decision-making. During her graduate studies in Marketing, Elena focused on advanced data analysis tools and techniques to conduct insightful consumer research and demand analysis. She has worked with clients of all sizes, from well-known brands like Zoom to local, sustainable start-ups like Louve Design.
Elena holds a bachelor's and a master's degree in marketing (Canada).
Ziad has an accounting and finance background. He started his career in financial audit at Deloitte for nearly 3 years, where he enhanced his knowledge in accounting and understanding of financial statements. He then shifted his career into corporate development, with a focus on performance monitoring, feasibility studies, and project assessment. Through this job, he developed skills in corporate finance, valuation, and financial modeling.
Ziad holds a bachelor's degree in business administration (Lebanon) and a master's degree in accounting and finance (England).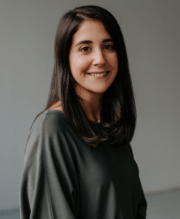 Cynthia has over 8 years of experience in marketing and communications. Her varied background in different industries, such as tourism and health, has allowed her to develop an expertise in the deployment of 360° marketing campaigns to maximize the acquisition and retention of targeted customers. She has also developed skills in brand management, communications strategy planning, marketing and CRM strategy development, as well as performance measurement.
Cynthia holds a bachelor's degree in environmental design (Canada) and a master's degree in marketing (Canada).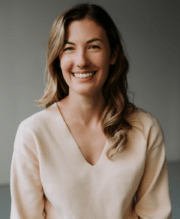 Geneviève began her career in talent acquisition before specializing in organizational development. She has more than five years of experience in large organizations such as Cirque du Soleil and CHU Sainte-Justine. So far in her career, Geneviève has worked on the onboarding of new recruits, leadership and talent development, and supporting work communities. She values a participatory and inclusive approach which helps her to better adjust her interventions to the realities of each team and to facilitate change management. Geneviève believes that the success of an organization depends on initiatives that support the full potential of its staff and actively encourage their well-being.
Geneviève holds a bachelor's degree in business administration (Canada, Portugal) and a master's degree in organizational development (Canada).
Camila has been building her career in major corporations like SNC-Lavalin, Cirque du Soleil and Mishmash. Through her professional experience, she gained expertise in project management, operations and administration, supporting teams as well as senior management of the organizations where she worked. Camila's commitment to improving processes is second to none, but her dedication, her willingness to help and her tireless energy make her an invaluable asset to the teams she works with.
Camila holds a bachelor's degree in translation (Canada) and she is currently pursuing post-graduate studies in business administration (Canada).