Insights for the entertainment industry in times of COVID-19 (edition 6, March 2021)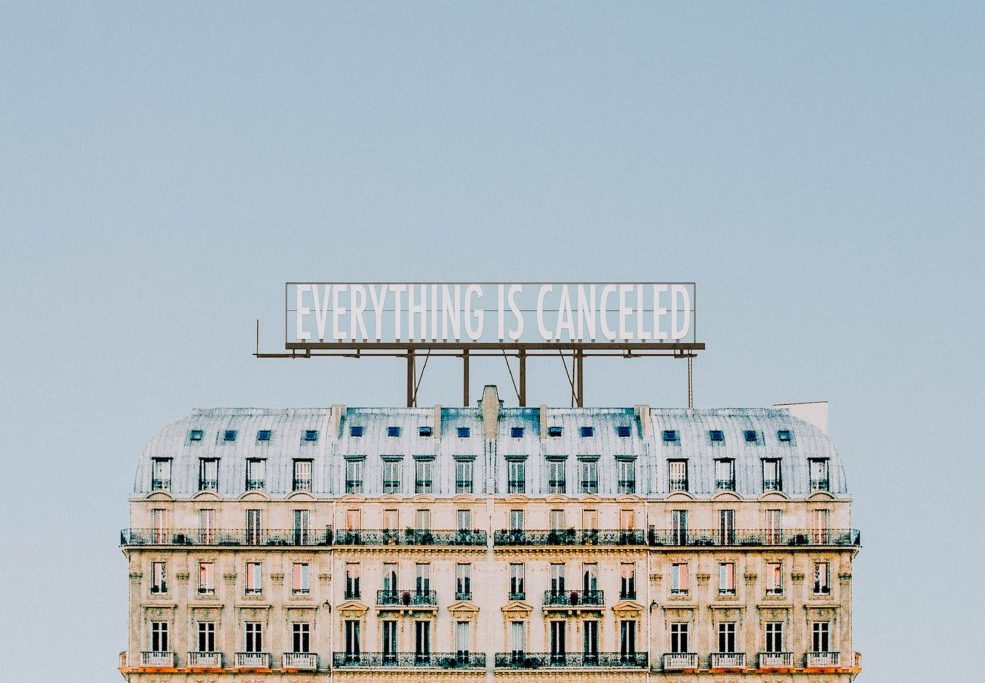 Almost a year ago, in April 2020, Habo and Lepointdevente.com published the first edition of the Entertainment Barometer, a longitudinal study that analyzes how Quebec entertainment consumers' attitudes to the current pandemic have evolved.
In an unprecedented pandemic year that has profoundly affected the entertainment industry, our customers and partners have been looking for the answers to three big questions:
Will consumers return to live entertainment, and if so, when?
What measures can be used to reassure consumers and facilitate their return?
Are online events here to stay, and can they be monetized sustainably?
Our analysis of the six waves of the Entertainment Barometer provides answers to these questions and important data that helps us to prepare for the revival of entertainment, arts and culture.
The pandemic should not have a long-term effect on Quebecers' consumption of public entertainment activities.
Over the past year, perceptions of deprivation have increased significantly for all entertainment activities, but the second wave did not have a strong effect on consumer concern about attending public entertainments.
A significant proportion of consumers are willing to return to entertainment activities as soon as possible, and this proportion varies according to the type of activity in question. It is highest for restaurants (49%) and lowest for live entertainment and festivals (27-29%). Although levels of willingness vary, it's clear that achieving collective immunity will have the greatest influence on convincing consumers to return.
As for those consumers who say that they will never return to venues or restaurants, the good news is that their number is vanishingly small—we are talking less than 1% of all entertainment consumers.
Consumer comfort level is inversely proportional to the density of entertainment participants.
It is the number of attendees that has the greatest influence on consumer comfort level, followed by social distancing and sanitizing measures.
Contrary to what one might think, the size of the venue does not seem to have a marked influence on consumers' comfort levels. Consequently, there are higher comfort levels at outdoor venues.
Online event penetration has grown significantly since the holidays, but this remains a difficult alternative to monetize.
58% of Quebec entertainment consumers have attended online events since the beginning of the pandemic (a 75% increase!)
However, even for consumers of online events, virtual gatherings can't match the appeal of in-person events. Few consumers see online events as being a real alternative once live venues reopen. Online events should therefore be seen as complementary experiences to the physical offering, not as a replacement.
Online events also face a monetization challenge. Only 13% of all entertainment consumers are willing to pay to attend an online event. The psychological price to attend an online event is around $25 and varies slightly by type of activity.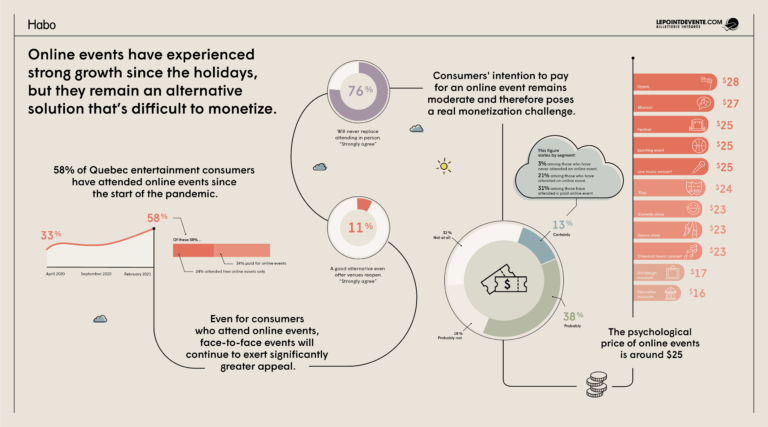 Do you want to know more?
A detailed report of the study is downloadable below.
For any additional information, you can contact us here.
Methodology
This study was conducted online with 2,000 people living in Quebec, who were selected at random from ticket buyers who had used the Lepointdevente.com website since 2017. Data was collected between February 15 and 24, 2021. Quotas were established to build a sample comparable to the structure of the Quebec population in terms of gender, age, and region of residence.
Acknowledgments
This study is done in partnership with Lepointdevente.com, and thanks to the participation of Qualtrics.
Graphic design by Valérie Paquette.
Download the study
Please fill out the form below to download the report.