Quebecers and entertainment in times of COVID-19 (edition 1, April 2020)
[Update: the most recent version of the Barometer, published in May 2020, is available 

here

.]
What will post-COVID entertainment look like in Quebec? Will consumers feel confident enough to consume entertainment activities? In recent weeks, these questions have been omnipresent in discussions with our clients and partners. Of course, the entertainment and leisure industry will have to change in order to adapt to a new reality. But to what extent?
Studies and surveys related to the current pandemic abound. Some take the pulse of the consumer at a high level. Others, like industry studies, focus on the impact at the companies level more than on the consumer.
In order to support the creative and entertainment industries in Quebec, we are launching a longitudinal study that will analyze the evolution of the attitude of entertainment consumers in the coming months. We will be able to see how consumer concerns and purchase intentions will evolve, and what strategies attractions and events can put in place to minimize the impact of the crisis on their activities.
What is the mindset of entertainment consumers today?
The results of the first wave of research, conducted in mid-April 2020 amongst 1,000 entertainment consumers in Quebec highlight 4 key learnings:
It comes as no surprise that consumer concerns are currently high regarding entertainment consumption: 62% would be worried about visiting a museum, 67% about going to a restaurant and 85% about going to a festival.
It will take almost 4 months for consumers to feel comfortable going to a restaurant, and more than 6 months for attending a concert, sporting event, going to an amusement park or a festival.
We can naturally expect a decrease in Quebecers' entertainment spending over the next few months, at least in the short term (of course, when the current restrictions are lifted). This decrease, strongly correlated with the decrease in household income, will be relatively uniform across age groups but greater for certain categories of entertainment (particularly those where the density of people will create higher levels of concern).
Consumers are in a wait-and-see mode and few would be willing to buy tickets today, even for an event they really want to attend. However, several mitigation measures can help reassure consumers. At this time, flexibility on the cancellation and modification terms is the measure having the most impact on the intention to purchase currently.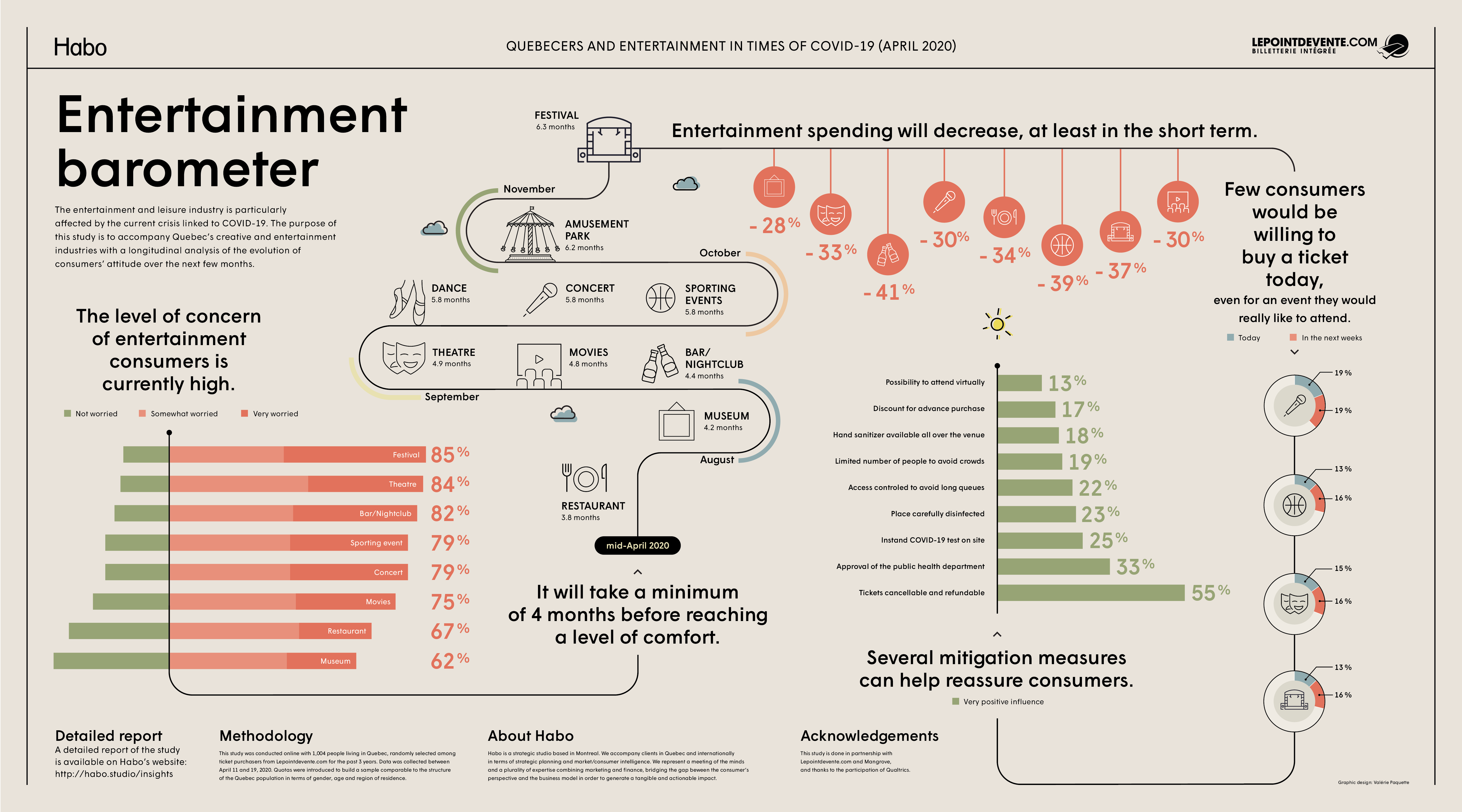 What are the first entertainment activities consumers will return to?
The resumption of entertainment activities will be sequential. From a consumer perspective, it looks like restaurants will be the first to get traction. Museums should follow, then activities such as bars, nightclubs and cinema. Festivals, concerts and theatre, although currently greatly missed by consumers, will have a longer return to normal due to their high level of concern.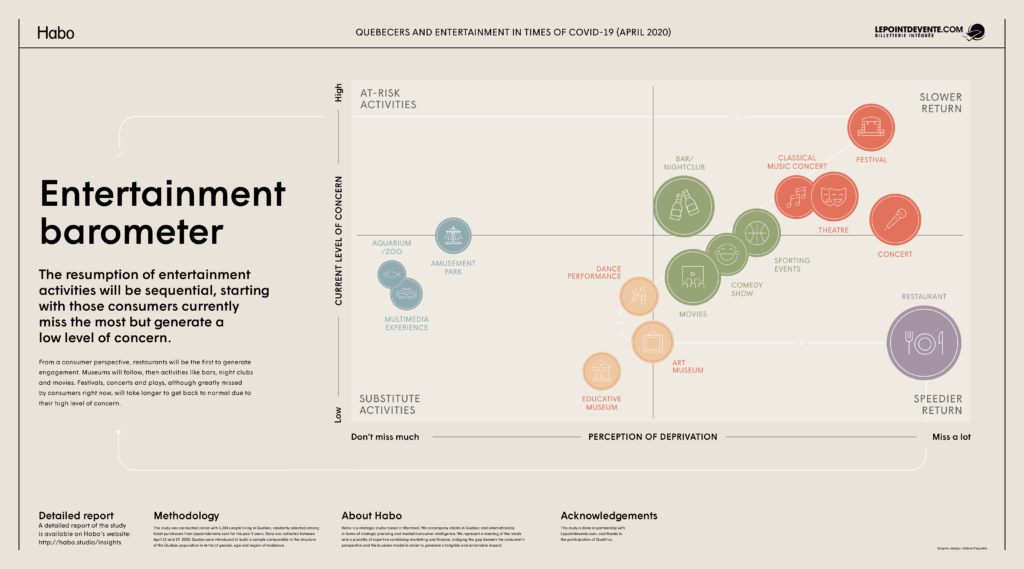 And now?
The first edition of this barometer sets the stage as far as consumers' mindset is concerned. The data was collected while we were in the eye of the storm – in the middle of the lock-down period, while the main events in Quebec (concerts, festivals, etc.) were forced to cancel their programming for 2020. The next editions of the barometer, published each month during the next semester, will add an additional layer of information: how will these different metrics evolve over time? And how should that influence the strategies of players in the industry?
This study also aims to generate a discussion between players in the entertainment and leisure sector – employees, companies, media, … Your point of view is important so that this content can have a tangible and actionable impact on the success of recovery strategies. Please share your ideas and comments with us.
Want to know more?
You can download the full report below.
For any additional information, you can contact us here.
Methodology
This study was conducted online with 1,004 people living in Quebec, randomly selected from Lepointdevente.com ticket buyers from the past 3 years. Data collection took place between April 11 and 19, 2020. Quotas were put in place in order to build a sample comparable to the structure of the Quebec population in terms of gender, age and region of residence.